NH Bird Watching
NH Birding Vacations & Bird Viewing Locations

New Hampshire is a popular state for birdwatching. NH Birding Vacations are becoming increasingly popular as more amateur and professional photographers take to the scenic NH woods,streams, and forests in search of rarely seen birds. There are several birding hot spots in New Hampshire. The far northern region is where many migrating birds spend spring and summer. Please share your NH birding comments. To feature your business, contact us.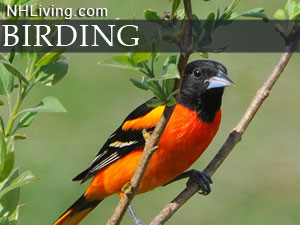 The Great North Woods
Pittsburg,NH
The boreal forest of the far northern region of the state is a must for bird watchers.There are several lakefront lodges located in the spectacular Great North Woods Region. Pittsburg has been hosting Audubon Society Birdwatching Groups for many years.
White Mountains Region
This region includes the Mt. Washington Valley are thousands of acres of wilderness, ponds, swamps and the White Mountain National Forest. Plenty of great lodging options from campsites, luxury inns, hotels, motels, and vacation homes. Audubon Society Birdwatching Groups have been visiting the region for many years.
Pondicherry National Wildlife Refuge
Whitefield,NH
The Pondicherry Preserve provides an exceptional opportunity to view birds and migrating water fowl. Boardwalks and hiking paths. Free parking areas and some wonderful inns nearby.
White Mountain National Forest
Many opportunities and trails
Kancamagus Highway
Numerous trails and ponds present terrific birdwatching
Odiorne Point State Park
This seacoast park has tidal pools, marshes, forests and overgrown military bunkers. See migrating shorebirds in summer, Raptors in fall. Purple sandpipers, Grebes and other species winter here.
Pittsburg – Connecticut Lakes Region
This largest in land mass of all NH towns offers hundreds of miles of dirt roads. The Connecticut Lakes, many ponds, rivers and streams. A birdwatchers paradise. Well worth the ride to boreal forests of northern New England.
Mount Washington Valley
Travel the secondary roads or take Route 302 and discover birdwatching opportunities. A walk up Frankenstien's Cliff, or drive through Jefferson's Notch will yield breathtaking views.
New Hampshire Nature & Conservation Organizations
The Nature Conservancy : New Hampshire Chapter
22 Bridge Street, 4th Floor
Concord, NH 03301
Ph: 603-224-5853
Great Bay Field Office : The Nature Conservancy
112 Bay Road
Newmarket NH 03857
Ph: 603- 659-2678
Mount Washington Valley Field Office
2760 White Mountain Highway
North Conway, NH 03860
Ph: 603-356-8833
N.H. Audubon Society
84 Silk Farm Road
Concord, NH 03301
Ph: 603-224-9909


NH Lodging Picks | Weddings
Products | NH Town Guides