Great North Woods NH Biking Trails
Lancaster Berlin NH Biking – Bike Trails – Mountain Biking

New Hampshire is a wonderful place for a biking trip. The varied terrain and beautiful scenery provide the perfect setting. Whether a leisurely ride by a lake or something more adventurous is your style it can be found in New Hampshire. Ask us about NH Bike Trials or share biking comments.
North Woods New Hampshire Biking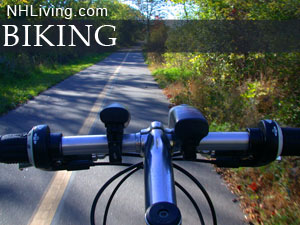 DIXVILLE NOTCH
The Balsams 
Rte 26
Toll Free: 1-877-BALSAMS (877-225-7267)
General Business Line: 1-603-255-3400
39 miles of cross-country trails are used for biking. The bike trail system includes 39 miles of well-marked and non-motorized annotated trails. The foot trail system offers 34.8 miles of scenic trails, safe, well-marked and annotated.
John Wingate Weeks Estate
Rt. 3
Phone: 788-4004
The grounds provide a 360-degree panorama of mountain splendor, including the Presidential Range of the White Mountains, the Green Mountains of Vermont, the Kilkenny Range, the Percy Peaks, and the upper Connecticut River Valley.
Recreational Rail Trails
Upper Coos Recreational Trail
(Colebrook-Beecher Falls) 
10.5 miles