New Hampshire Wildlife

New Hampshire is home to a wide range of wildlife. Much of the land in central and northern New Hampshire is now forested again. The New Hampshire woods are vast and hundreds of acres are protected. NH wildlife includes; black bear, moose, bobcat, wild turkey, deer, beaver, fisher cat, rabbits, fox, wild turkets, eagles, and more. Share your NH photos, reviews and comments. To feature your business, contact us.
New Hampshire Wildlife Photography
New Hampshire Wildlife
A selection of wild animals you may see during your visit to New Hampshire. New Hampshire wildlife includes deer, fox, black bear, heron, Canada goose, chipmunks, duck, moose, and others.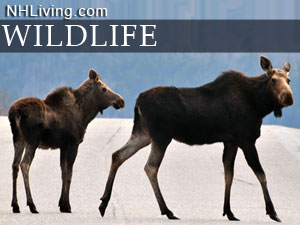 NH Lodging Picks | Weddings
Products | NH Town Guides