New Hampshire Snowshoeing
NH Winter Sports: Snowshoeing Vacations

Although records of the first snowshoes are unclear, it is estimated that they go back 4,000-6,000 years, and most likely originated in Central Asia. Because snowshoes distribute weight over a wider area, they allow for quicker and more efficient travel over deep snow. If you can walk, you can snowshoe. Why not take a winter adventure – snowshoeing in New Hampshire. A vacation activity that is ann amazing way to experience nature, stay in shape and enjoy the great outdoors. To feature your business in NHLiving.com, contact us.


Partridge Cabins, 3 Partridge Road, US Route 3, Pittsburg, NH 03592 | Ph: 603-538-6380
Visit Partridge Cabins and Lodge - the four season place to be. We have 600 feet of lake frontage, and offer housekeeping cabins situated amidst the shade of sheltering spruce and fir trees. Completely winterized cabins with gas heaters, private baths, with hot and cold running water, electricity, and full kitchen facilities. All cabins are attractively furnished, and accommodate 4-8 people. Snowmobile, cross-country ski, hike, moose watch, and let's not forget fishing and hunting! Summer, fall, winter, and spring, you will find Partridge Lodge & Cabins most pleasing.
Visit Partridge Cabins - Pittsburg, NH
---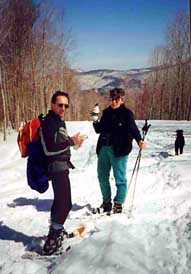 During New Hampshire winter the snow cover usually blankets the ground from early December through early March, often later. This makes New Hampshire a popular winter vacation destination for snow sports like skiing, cross-country skiing, and snowmobiling. The other winter snow activity that is growing in popularity is snowshoeing and New Hampshire is an ideal place to snowshoe
The grounds of the historic Sunset Hill House are ideal for snowshoeing. Beginning snowshoers will appreciate the gentle terrain. The Sunset Hill House cross-country trails are quite navigable for even the novice. Call the inn for current trail conditions.
Snowshoeing has been prevalent in New Hampshire for centuries and was once relied upon heavily as a means of travel throughout northern New England. Now, snowshoeing is an excellent recreation and an outstanding way for non-skiers to enjoy New Hampshire's snowy winters. Snowshoeing is also an excellent way to stay in shape. 
With the invention of the snowmobile, snowshoeing became less common, being looked upon more as an activity one would do only out of sheer necessity. That is, until the concept of snowshoeing changed, making it a 'sport' rather than a means of transportation. Snowshoeing races are now an annual event in northern New England.


NH Lodging Picks | Weddings
Products | NH Town Guides