Romantic New Hampshire
Come Enjoy a Weekend For Two!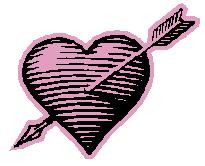 Love is in the air everywhere you look around. If this is what you are looking for this Valentines Day, what better way to get romantic than to snuggle up in New Hampshire. NH has many fabulous options for getting amorous. Visit our suggestions below. Ask us about NH Romantic Lodging or share your comments. To feature your lodging or dining, contact us.
NH Romantic Inns & Resorts

Chesterfield Inn, 20 Cross Road, Chesterfield, NH 03466
The Chesterfield Inn is a warm, welcoming Bed and Breakfast Inn in the Monadnock Region of New Hampshire. We specialize in personal service and comfort. Enjoy our delicious country breakfast, cooked to order, with homemade muffins made from scratch each morning. Our romantic candlelit dining room is the perfect place for dinner with a menu of fresh, local food that changes with the seasons. Most guest rooms have fireplaces, pretty views and six rooms are pet friendly. The inn is the perfect place for an intimate wedding.
Visit Chesterfield Inn Website
---


Dowd's Country Inn, 9 Main Street, Lyme, NH 03768 | 800-482-4712
Family owned Bed & Breakfast in Lyme, NH - just 8 miles north of Hanover. 18th century home renovated into a 20 room Inn. Every stay includes a full country breakfast and afternoon tea. New Tavern open on-site. We seed to provide every guest with a true home-away-from-home experience. Join us today!
Visit Dowd's Country Inn - Lyme, NH
---


The Norwich Inn, 325 Main Street, Norwich, VT 05055 | 802-649-1143
The Norwich Inn is a historic Vermont inn located just across the river from Hanover, New Hampshire. An Inn has been on the site since 1797; the current Victorian Structure since 1890. We offer 38 guestrooms, Pub, Dining Room, and Microbrewery.
Visit Norwich Inn - Norwich, VT
---


Cottage Place on Squam Lake, 1132 US Rt. 3, Scenic View Road, Holderness, NH 03245 | 603-968-7116
The Cottage Place on Squam Lake specializes in cottage living by offering 8 cottages of various shapes and sizes as well as 8 motel suites. Over 140 feet of Squam Lake frontage with a carefully landscaped sandy beach. Open year round, most cottages have fireplaces.
Visit Cottage Place on Squam Lake Holderness
---


Inn at Ellis River House B&B Inn, 17 Harriman Road, Jackson, NH 03846
Enchanting Country Inn offering "Romance & Rejuvenation" on the river in the heart of the White Mountains. 20 rooms and cottage are beautifully appointed with period and modern amenities. Many have Jacuzzis for two and/or balconies, most have fireplaces. Gourmet country breakfast and afternoon refreshments included. Enjoy the cozy game room/pub, hot tub, sauna, and outdoor heated pool. Relax, re-discover lifes simple pleasures, hike, fish, golf nearby, cross country or downhill ski, outlet shop and more. Let the Inn at Ellis River rejuvenate your spirits!
Visit Inn at Ellis River Jackson NH
---


The Darby Field Inn and Restaurant, 185 Chase Hill Rd., Albany NH 03818 | 603-447-2181
Wander off the beaten path and discover this romantic White Mountain bed and breakfast. The Inn has 13 unique rooms, all with private bath, and full country breakfast included. On site amenities include: restaurant, tavern, spa services, wooded trails, mountain views, romantic packages, and seasonal heated pool. Minutes from shopping, downhill skiing, ice skating and other local attractions. The Darby Field offers the perfect setting for small weddings and reunions, too.
Visit Darby Field Inn & Restaurant - Albany, NH
---


Sugar Hill Inn, 116 Scenic Route 117, Franconia, NH 03586
Nestled into the hillside on 16 acres of woodlands, rolling lawns and well-tended gardens, you will find the beauty and tranquility of New Hampshire's White Mountains. The Sugar Hill Inn is a perfect place to relax, rejuvenate and re-discover lifes simple pleasures. A place where romance is virtually guaranteed.
Visit Sugar Hill Inn Website
---


Franconia Inn, 1300 Easton Rd., Franconia, NH 03580 | 603-823-5542
"In the Land of Big Mountains and Small Villages." Nestled in the heart of the beautiful White Mountains of New Hampshire, The Franconia Inn is a full service country inn, where casual elegance and exquisite cuisine are just waiting to welcome you. Please visit our website for more information.
Visit Franconia Inn - Franconia, NH
---


Woodstock Inn Station & Brewery, Rt. 3, No. Main, No. Woodstock, NH 03262 | 603-745-3951
Located in the quaint village of North Woodstock, the Inn's gracious and relaxed setting centers around 40 uniquely styled and cozy rooms and suites, located across 6 buildings on the property. All of our lodging options offer the comforts of home, including cable, free Wi-Fi access, air-conditioning and more. Many offer Whirlpool tubs and gas fireplaces. Includes free use of off-property indoor pool and health club. Voted a White Mountains favorite by NH Magazine, Hidden Gem award and "Worth a Journey" says Phantom Gourmet. Our famous country breakfast is included with your stay.
Visit Woodstock Inn Station & Brewery - No. Woodstock
---


Inn at Jackson, Main Street and Thorn Hill Road, Jackson, NH
The Inn at Jackson, overlooking picturesque Jackson Village, was built in 1902 for the Baldwin piano family and was designed by famous architect, Stanford White. Centrally located to area attractions and restaurants, the inn maintains 14 spacious guestrooms, many with fireplaces and cozy seating areas. The inn's recently redesigned common rooms provide a romantic setting for delicious breakfasts, afternoon refreshments, or relaxation. Enjoy mountain views from our hot tub. Enter as our guest... but leave as our friend.
Visit Inn at Jackson Website
---

Wildcat Inn & Tavern, Rte 16A, Jackson Village NH 03846
Through the Jackson covered bridge is a place that just might be perfect... a place where candle light dances and the love and laughter of a hundred years of happy travelers is as rich as the wide pine floors. We invite you to take a step back in time. Come prepared to laugh, love, and smile so hard you might just cry. After all, as brilliant stars twinkle in the clear night sky... you just might find that the Wildcat is almost perfect.
Visit Wildcat Inn & Tavern Website
---

Wilderness Inn Bed & Breakfast, 57 South Main Street, US Route 3, North Woodstock, NH 03262
Welcome to the Wildnerness Inn B&B. The seven bedrooms, family suites and "honeymoon" cottage overlooking Lost River have private baths, some with 2 person jacuzzis and fireplaces, are smoke free, have cable TV and wireless internet. A full gourmet breakfast is served including cranberry walnut pancakes with pure maple syrup, strawberry sour cream crepes, brie or salsa-cheddar omelettes.
Visit Wilderness Inn NH Website
---


Lamie's Inn and The Old Salt Restaurant, 490 Layfayette Road, Hampton NH 03842
Looking for warmth, friendliness, and old-fashioned hospitality? Lamie's Inn has that and more. We offer seasonal packages to customize any stay. Two miles from Hampton / Rye beaches. Make yourself at home.
Visit Lamie's Inn Website
---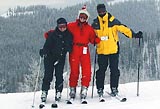 Skiing, Cross Country Skiing, Snow boarding, Skating, Horse-drawn sleigh rides,Snowmobiling, and Snow Shoeing. Or perhaps you are more of an inside person? Try a roaring fireplace, a two person Jacuzzi, a good book, a museum, shopping, a long winters nap, or a wonderful lodging venue with a great view of the White Mountain or the Sea Coast.
Take your loved one out to dinner. Try a romantic Inn, or gourmet restaurant. Try a fun spot with great food and live entertainment, Grab something to eat at a local eatery before you try skating, or moonlight cross-country skiing. Bundle up and take a brisk walk along the beach and listen to the winter waves caressing the shoreline. Elegant or relaxed, visit our dining section for ideas from our clients. Many offer their menu and Specials online.

Stay at a romantic Inn or Bed and Breakfast many with flowers and a private hot tub or Jacuzzi in the room. How about spectacular views and vistas, shopping and antiquing, stay at one of our featured hotels. Add an element of excitement; ask if they have an outdoor heated pool or hot tub. Indulge yourself with Spa treatments and amenities at a New Hampshire resort, or rent a private home, cottage or condo just for the two of you, and of course many of you will include your family too.
For the sport enthusiast, do you both like ice fishing? Just the two of you cuddled up in an ice shanty. Skiing? Watching the sun glare off the new fallen snow as you swoosh down the slopes.Snowmobiling? Create a bit of body heat. Many of our venues are right on the trails.
There are many attractions and events happening throughout New Hampshire during February. This makes the Granite State a great place to come and visit!
Best of all New Hampshire has tax-free shopping. Tilton and North Conway offer outstanding Outlets and there are many indoor Mallsthat are conducive to winter shopping. Shopping is also a winter sport just for the record. Come to New Hampshire to celebrate Valentines Days and take home wonderful memories. 

Great North Woods NH Bed & Breakfast Inns
Berlin, Colebrook, Errol, Dixville, Lancaster, Pittsburg
White Mountain NH Bed & Breakfast Inns
North Conway, Lincoln, Woodstock, Littleton, Franconia, Gorham, Jackson, Sugar Hill, Whitefield, Waterville Valley
Lakes Region NH Bed & Breakfast Inns
Laconia, Rochester, Plymouth, Ossipee, Meredith, Ashland, Wolfeboro, Bristol, Winnipesaukee
Dartmouth Lake Sunapee NH Bed & Breakfast Inns
Lebanon, Hanover, Claremont, Newport, Tilton, Lyme, Plainfield, Newport
Monadnock NH Bed & Breakfast Inns
Keene, Peterborough, Fitzwilliam, Westmoreland, Chesterfield
Merrimack Valley NH Bed & Breakfast Inns
Manchester, Concord, Nashua, Salem, Derry, New London, Merrimack, Loudon
Seacoast NH Bed & Breakfast Inns
Portsmouth, Dover, Durham, Hampton, Exeter, Rye, Hampton Beach
NH Lodging Picks | Weddings
Products | NH Town Guides