NH Smokehouses – Apple Smoked Meats Cheese Poultry
Smoked Spiral Ham, Bacon, Vermont Cheddar, Fish, Sausage

Sometimes ya just gotta have bar-b-que. Welcome to the NHLiving listing of New Hampshire smokehouses. In addition to many varieties of smoked chicken, turkey, pork, red meats, sausages, and fish, most smokehouses offer many other products, such as smoked cheese, maple syrup, and jams. Please share your NH Smokehouse reviews and comments.

To promote your specialty food business in NHLiving.com – New Hampshire's Internet Magazine, please contact us.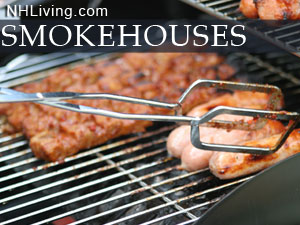 Fox Country Smoke House
164 Briar Bush Rd.
Canterbury, NH
Ph: 603-783-4405
Retail store & mail order. Products: Irish-style bacon, Canadian bacon, smoked cheeses, turkey, & sausages.
Garfield's Smokehouse
163 Main St.
Meriden, NH
Ph: 603-469-3225
Retail store & mail order. Products: corncob- and hardwood-smoked bacon, cheeses, & hams. We like Garfield's Apple Smoked Vermont Cheddar – share your review or comment.
Goody Cole's Smokehouse
50 Lincoln St.
Exeter, NH 03833
Ph: 603-773-5657
Retail store. Products: pork, ribs, chicken, turkey, sausage, & brisket.
North Country Smokehouse
Airport Rd.
Claremont, NH
Retail store & mail order. Products: 6 varieties of bacon & wide variety of sausages & cheeses.
NH Vacation Rentals | NH Country Inns | Top NH Hotels | Resorts
Classified Ads | Golfing | Events | Attractions | Sweepstakes | Personals
Dining | Real Estate | Skiing | Pet Friendly Lodging | Conferences | Weddings
Products | NH Towns & Cities | Shopping
NH Campgrounds | Lodging Specials
CLICK - SUBSCRIBE FREE

To add your NH business, click here.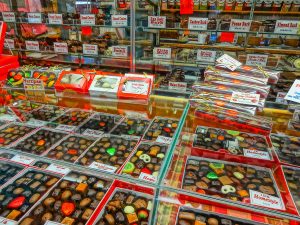 Vermont | Maine | Connecticut | Massachusetts | Rhode Island
New England Living Magazine