Walpole, New Hampshire 03608
Walpole, NH Lodging, Real Estate, Travel & Visitor Information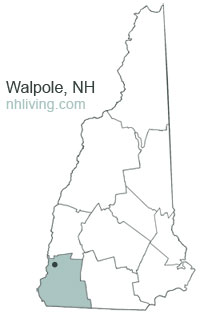 Walpole, New Hampshire was settled as early as 1736 under the name of Great Falls or Lunenburg. The land for Walpole was not granted by New Hampshire until 1752 when it was named Bellowstown. Colonel Benjamin Bellows, for whom Bellows Falls, Vermont was named, built a large fort at Walpole for defense against Indian attack. In 1761 the grant was renewed, and the town was renamed Walpole, in honor of Sir Robert Walpole, first Prime Minister of England.
American film-director Ken Burns lives in Walpole. Burns, a famous New Hampshire personality, is known for his documentary productions: The Civil War (1990), Baseball (1994), Jazz (2001), The War (2007), The National Parks: America's Best Idea (2009), and Prohibition (2011). Another famous person connected to Walpole is Doctor Horace Wells (January 21, 1815 – January 24, 1848) Born in nearby Vermont, Horace Wells was educated in Walpole and was a pioneer in the use of nitrous oxide or "laughing gas" in dentistry. A monument of Horace Wells is located in Bushnell Park, Hartford, CT. Louisa May Alcott was a summer resident of Walpole. The Alcott book "Under The Lilacs" is said to be inspired by the town's abundance of the purple-blue flowering bushes.
Historic buildings in Walpole include Walpole Academy and the Walpole Public Library. The Walpole Academy was built in 1831 and attributed to master-builder Aaron Prentiss Howland. The building is listed on the National Register of Historic Places.
Walpole's downtown "Burdick Chocolate" A Restaurant & Chocolatier, is a Cheshire county popular attraction and restaurant.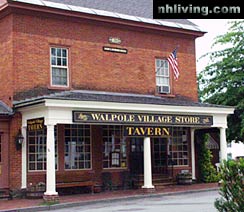 To share any Walpole, NH information with us, please contact us. Learn more about advertising in NHLiving.
Incorporated: 1756
County: Cheshire
Walpole, NH Population:
2010: 3,734
GPS Coordinates:
Latitude: 43.0446
Longitude: -72.2533
Walpole, NH Local Information
Walpole Police Dispatch: 911
inns | hotels | resorts | rentals | attractions | dining | real estate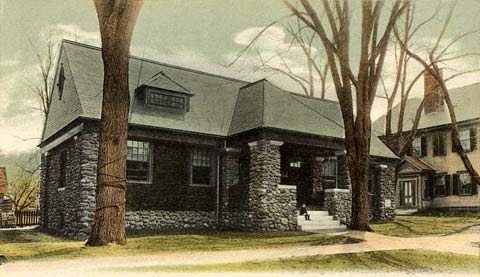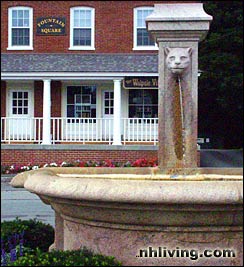 Walpole, NH Living Resources

Walpole, NH Airports
Walpole, NH Art Galleries
Walpole, NH Autos
Walpole, NH Camping
Walpole, NH Golfing
Walpole, NH Microbreweries
Walpole, NH Shopping
Walpole, NH Theaters
Walpole, NH Antiques
Walpole, NH Attorneys
Walpole, NH Classifieds
Walpole, NH Hiking
Walpole, NH Inns
Walpole, NH Museums
Walpole, NH Skiing
Walpole, NH Weather
Walpole, NH Apple Orchards
Walpole, NH Attractions
Walpole, NH Beaches
Walpole, NH Dining
Walpole, NH Hotels
Walpole, NH Radio Stations
Walpole, NH State Parks
NH Lodging Picks | Weddings
Products | NH Town Guides
New England Living Magazine
Free World Mall

Country Weddings | New England Recipes
VT Inns | Red Sox Gifts | Travel Destinations