NH Snowshoeing
Snowshoeing Tips, History & Trail Etiquette

Although records of the first snowshoes are unclear, it is estimated that they go back 4,000-6,000 years, and most likely originated in Central Asia. Because snowshoes distribute weight over a wider area, they allow for quicker and more efficient travel over deep snow. If you can walk, you can snowshoe. Why not take a NH winter adventure – snowshoeing. An amazing way to experience nature, stay in shape and enjoy the great outdoors. Ask us about NH snowshoeing or share your comments. To feature your NH business, contact us.
New Hampshire Snowshoeing Vacations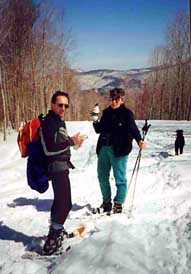 Follow the following Snowshoeing Tips for a safer snowshoeing experience:
When packing, remember to include a map, compass, water, food, first aid supplies, and a cell phone if you own one.
Be sure to check the local weather forecast before starting out.
Inspect your equipment before packing, and regularly on the trail.
Tell a friend or family member where you are going and when you will return.
Dress in layers to better insulate against the cold.
Check all trail conditions for avalanche warnings, thin ice, and extreme weather conditions.
Observe all posted signs and warnings, staying off closed trails and out of restricted areas.
Use good judgment and respect all private property postings.
Never litter – take out what you bring in.
And, allow yourself plenty of time so you can fully enjoy this northern New England winter wonderland!
Many New Hampshire Inns and Resorts offer snowshoe trails, rentals, and instruction. The wonderful and historic Chase House in Cornish, New Hampshire has miles of scenic snowshoeing trails nearby that include spectacular views of the Connecticut River valley. The Inns trails can accommodate all levels of expertise.


NH Lodging Picks | Weddings
Products | NH Town Guides
New England Living Magazine