NH Ice Cream Stands
NH Ice Cream Parlors – Homemade Ice Cream Soft-Serve & Frozen Yogurt

Nothing cools you off faster on a hot summer day than a stop at the neighborhood ice cream parlor. New Hampshire is home to a great variety of ice cream stands, ice cream parlors, soft serve and frozen yogurt. Find our favorites below. Ask about NH Ice Cream Stands or share reviews. To feature your business in NHLiving, contact us.
New Hampshire Ice Cream & Creamee Stands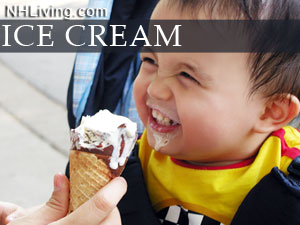 Flurries
41 Route 25 
Meredith, NH 03253
603-279-5554
A Lake Winnipesaukee tradition for decades. 
Sawyer's Dairy Bar
1933 Lake Shore Rd
Gilford, NH
Ph: 603-293-4422 
Jake's Old Fashioned Ice Cream & Sweet Shoppe
In the Carriage Depot (Across from Lowe's)
135 Route 101A in 
Amherst, NH
603-594-2424
Arnie's Place
164 Loudon Road 
Concord, NH 
603-228-3225
Kimball Farm
Route 124
Jaffrey, NH 03452
603-532-5765



IC Treats
44 Nashua Rd. (Rt. 102),
Londonderry, NH 03053. 
just off Exit 4, Rt. 102 in Londonderry, NH
603-437-2900 
Buster's
621 Amherst Street (Route 101A)
Nashua, NH 03063
603-881-9595
Hayward's Ice Cream
7 D.W. Highway
Nashua, NH 03060
603-888-4663 
Hayward's Ice Cream of Milford
383 Elm St.
Milford, NH 03055
603-672-8383 
Annabelle's Natural Ice Cream
49 Ceres St.
Portsmouth, NH 03801
603-436-3400
Brick Farm Ice Cream
434 Lear Hill Road
Newport, NH 03773
603-863-6732
JB Scoops
7 Weeks Street
Winnipesaukee Marketplace
Weirs Beach, NH
603-366-5800
JB Scoops
56 Daniel Webster Hwy
Meredith, NH 03253
603-279-6789
Bailey's Bubble
Railroad Avenue
Wolfeboro, NH
Liliuokalani's Ice Cream And Coffee Bar
956 Weirs Blvd.
Laconia, NH 03246
603-366-9323
Ebby's Ice Cream
421 N Main St 
Franklin, NH 03235
Bishop's Homemade Ice Cream
183 Cottage St.
Littleton, NH 03561
Ph: 603-444-6039
Kellerhaus
Rt. 3
Weirs Beach, NH 03246


The Flying Goose Brew Pub & Grille, 40 Andover Road, New London, NH | 603-526-6899
The Flying Goose Brew Pub is a family run restaurant with 17 of our Handcrafted Brews on tap with panoramic views of Mt. Kearsarge in the quaint town of New London. Whether it be for a quick bite, a cold brew, or a place for family and friends to gather, we extend our "home" to you. Voted Best of NH Regional Favorite Restaurant, we offer a relaxing environment to all who walk through our doors. The Flying Goose Brews are also available to take home in Growlers!
Visit Flying Goose Brew Pub & Grille - New London
---


The Old Salt Restaurant at Lamie's Inn, 490 Lafayette Road, Hampton, NH 03842 | 603-926-8322
Bring your children, parents, and friends to The Old Salt Restaurant, where you will find great local flavor in a comfortable atmosphere. Come for lunch, dinner, or Sunday brunch, and enjoy great food and great company!
Visit The Old Salt Restaurant at Lamie's Inn - Hampton
---


Polly's Pancake Parlor, 672 Route 17, Sugar Hill, NH 03585 | 603-823-5575
Polly's Pancake Parlor has been serving yummy home cooked meals for over 75 years. Enjoy a stack of Oatmeal Buttermilk, Buckwheat or Whole Wheat pancakes. Sit back and savor a waffle of your choice smothered in real New Hampshire maple syrup or come for lunch and have a slice of quiche made with local Harman's cheese. Shop for gifts, pancake mixes and NH Maple Syrup. Reservations taken on weekends.
Visit Polly's Pancake Parlor - Sugar Hill
---


Rosa Flamingos, 2312 Main Street, Bethlehem, NH 03574 | 603-869-3111
A local favorite featuring classic Italian comfort food plus the best pizza, wings and homemade desserts. Real food by real people in a relaxed, friendly atmosphere. Patio dining, outside bar & entertainment. Dinner nightly at 5pm. Closed Monday & Tuesday.
Visit Rosa Flamingo's Bethlehem
---


Woodstock Inn Station & Brewery, Rt. 3, No. Main, No. Woodstock, NH 03262 | 603-745-3951
Located in the quaint village of North Woodstock, the Inn's gracious and relaxed setting centers around 40 uniquely styled and cozy rooms and suites, located across 6 buildings on the property. All of our lodging options offer the comforts of home, including cable, free Wi-Fi access, air-conditioning and more. Many offer Whirlpool tubs and gas fireplaces. Includes free use of off-property indoor pool and health club. Voted a White Mountains favorite by NH Magazine, Hidden Gem award and "Worth a Journey" says Phantom Gourmet. Our famous country breakfast is included with your stay.
Visit Woodstock Inn Station & Brewery - No. Woodstock, NH
---


Ramuntos Brick Oven Pizza, 76 Main Street, Keene, NH 03431 | 603-357-3555
Welcome to Ramunto's - a taste of the North End right here in Keene. At Ramunto's we're passionate about providing an unforgettable dining experience. Ramunto's combines great service, a warm family-friendly atmosphere, and high quality food made fresh daily. Authentic New York Pizza, fresh salads cut to order, pastas from scratch, and signature subs, Ramunto's offers something for everyone. Open Daily for lunch, dinner & Take-Out.
Visit Ramuntos Keene NH Website
---


George's Seafood & BBQ, 588 Tenney Mountain Hwy, Route 25, Plymouth, NH 03253 | 603-536-6330
George's Seafood and Bar-B-Que restaurant is a great year round family eatery nestled in the foothills of the White Mountains in Plymouth NH. Serving fresh seafood, steaks, burger and sandwiches. Clambakes, Fried Seafood, Chowders, Surf N' Turf, BBQ Ribs. Daily specials. Combo Baskets, Kid's menu available. Open 7 days a week for lunch and dinner.
Visit George's Seafood Restaurant Website
---


The Moody Mug Cafe, 18 State Street, Groveton, NH | 603-636-5096
A friendly place to meet for coffee, tea, good food and conversation. Open for Breakfast and Lunch daily 6:30am - 2:00pm. Try our cinnamon rolls, banana-walnut pancakes, in-house pastries, Breakfast & Lunch specials. Take-out, walk-in or phone ahead. Groups welcomed.
Visit The Moody Mug Cafe
---


Chang Thai Cafe, 77 Main Street, Littleton, NH 03253 | 603-444-8810
Chang Thai Cafe blends the best of traditional Thai cuisine with a dash of contemporary flair. In the Thai language, Chang means elephant — a very meaningful symbol in Thailand for long-lasting friendship, good fortune and happiness. At Chang Thai, we strive to represent the virtues of the elephant — friendliness and good fortune — in our restaurant and in each dish you are served.
Visit Chang Thai Cafe Littleton
---


Wildcat Inn & Tavern, Rte 16A, Jackson Village NH 03846 | 603-383-4245
Through the Jackson covered bridge is a place that just might be perfect... a place where candle light dances and the love and laughter of a hundred years of happy travelers is as rich as the wide pine floors. We invite you to take a step back in time. Come prepared to laugh, love, and smile so hard you might just cry. After all, as brilliant stars twinkle in the clear night sky... you just might find that the Wildcat is almost perfect. Lunch, Dinner, Entertainment in the Tavern.
Visit Wildcat Inn & Tavern - Jackson Village, NH
---


rek'•lis brewing company, 2085 Main Street, Bethlehem, NH 03574 | 603-991-2357
Tiny brewery, big beers! Enjoy Craft IPA's, Great Food, Entertainment, Special Events. Check the website for specials. Thursday night Trivia. The never ending quest to quench the 'thirst', whether it's on a bike, skis, or in a glass. This it where the passion comes from, it's what rek'•lis is, this is us, and now it's you... .
Visit rek'•lis brewing company - Bethlehem, NH
---


Main Street Grill and Bar, 32 Main Street, Pittsfield, NH 03263 | 603-435-0005
Everything we make at Main Street Grill and Bar is made as fresh and with as many locally sourced ingredients as possible. Suncook Valley NH's premier casual fine dining establishment. Our emphasis is on our guests and community, we provide a great dining experience. Lunch and Dinner, 7 days a week. Where Fresh Food, Creative Cocktails, and The Community Meet.
Visit Main Street Grill & Bar - Pittsfield, NH
---


Owl's Nest Resort, 40 Clubhouse Lane, Thornton, NH 03285 | 603-726-3076
5-star hotel experiences, spectacular (Nicklaus Designed) golf in the White Mountains & phenomenal dining with panoramic views. Visit us soon! And an unforgettable wedding setting where memories are made. .
Visit Owl's Nest Resort - Thornton, NH
---


Celli's Pizzeria, 100 Route 302, Twin Mountain, NH 03595 | 603-846-5510
Hot Pizza, Artisan Sandwiches, Panini's, Fresh Salads. Welcome to Celli's Pizzeria! We offer a large selection of deli subs & sandwiches. Fresh breads baked on location, homemade dough hand tossed pizza. Gelato , ice cream, cheese cakes, tiramissu, cannolli, daily specials, great soups, and salads.
Visit Celli's Pizzeria - Twin Mountain, NH
---
NH Lodging Picks | Weddings
Products | NH Town Guides
New England Living Magazine
Free World Mall

Country Weddings | New England Recipes
VT Inns | Red Sox Gifts | Travel Destinations