Flume Gorge Photo Tour
Franconia Notch State Park New Hampshire

View a photo tour of The Flume and Franconia State Park. Franconia Notch State Park is located in the White Mountain National Forest in New Hampshire. The notch was formed by the glaciers thousands of years ago. Ask us about Flume Gorge Franconia Notch Hikes or share comments. To feature your business, contact us.
Flume Gorge Franconia Notch NH Photos
New Hampshire Fall Foliage Tour
Photographs of life in New Hampshire during Autumn months. Fall foliage photos from across New Hampshire from readers, contributors and publishers of NH Living.com.

Best Western White Mountain Resort, 87 Wallace Hill Road, Franconia, NH 03580 | 603-823-7422
A distinct New Hampshire hotel where great accommodations and low discounted hotel rates are always found! Unique and charming, this White Mtn lodging facility is guest friendly, clean, comfortable and affordable. For Leisure, Holiday, Vacation, Business, Conference, or for Tour Bus operators this Franconia - Littleton New Hampshire hotel is the place for you and your family to stay for your White Mountain vacation.
Visit Best Western White Mountain Resort - Franconia, NH
---


Polly's Pancke Parlor, 672 Route 17, Sugar Hill, NH 03585 | 603-823-5575
Polly's Pancake Parlor has been serving yummy home cooked meals for over 75 years. Enjoy a stack of Oatmeal Buttermilk, Buckwheat or Whole Wheat pancakes. Sit back and savor a waffle of your choice smothered in real New Hampshire maple syrup or come for lunch and have a slice of quiche made with local Harman's cheese. Shop for gifts, pancake mixes and NH Maple Syrup. Reservations taken on weekends.
Visit Polly's Pancake Parlor Website
---


Franconia Inn, 1300 Easton Rd., Franconia, NH 03580 | 603-823-5542
"In the Land of Big Mountains and Small Villages." Nestled in the heart of the beautiful White Mountains of New Hampshire, The Franconia Inn is a full service country inn, where casual elegance and exquisite cuisine are just waiting to welcome you. Please visit our website for more information.
Visit Franconia Inn - Franconia, NH
---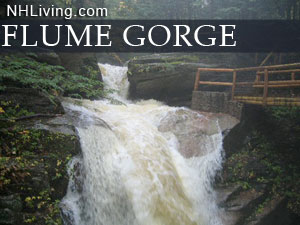 Franconia Notch State Park
Franconia / Lincoln, NH 
inns | hotels | resorts | rentals | attractions | dining | real estate
NH Lodging Picks | Weddings
Products | NH Town Guides
New England Living