New Hampshire Tracks – Hinsdale Greyhound Park
Dog Track Racing and OTB information

Watching the greyhounds rip up the turf at "The Rock" or at Hinsdale may be no longer, but New Hampshire does offer OTB wagering in several locations. Poker rooms have replace racing greyhounds at New Hampshire betting palaces. Greyhound, harness and horse racing action is viewed on the big screen. The history of wagering on both greyhound and thoroughbred horse racing in this northern New England state spans nearly one hundred years. Each New Hampshire race track has its own unique story to tell.
To promote your business in NHLiving.com – New Hampshire's Internet Magazine, please contact us.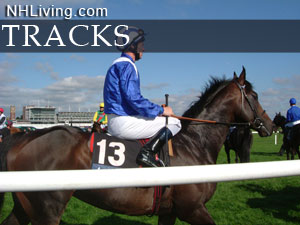 Hinsdale Greyhound Park
Hinsdale Greyhound Park (formerly Hinsdale Raceway) had nearly fifty years of wagering history in Hinsdale. Hinsdale was originally was a seasonal harness horse racing track.
The Hinsdale Raceway closed in 2009. The contents of the building were sold at auction in the spring 0f 2009.
Later in its development, Hinsdale started running Greyhound races and became the first track with a heated surface. This made it possible to run races in the harsh New England winters.
With the heated track surface in place, Hinsdale ran as many as 52 weeks of greyhound races from 1985 until the tracks closing.
Hinsdale Greyhound Park
Hinsdale, NH 03451-0027
NH Tracks | Rockingham Park | Seabrook | Greyhound Facts
Did we miss something? Add your update or comment.
NH Vacation Rentals | NH Country Inns | Top NH Hotels | Resorts
Classified Ads | Golfing | Top Events | Attractions | Sweepstakes | Personals
Dining | Real Estate | Skiing | Pet Friendly Lodging | Conferences | Weddings
Products | NH Towns & Cities | Shopping
NH Campgrounds | Lodging Specials
Search NH Living