New Hampshire Snowmobile Dealers
NH Snowmobile and Motorsports Equipment Dealerships

Many winter tourists are attracted to the multitude of snowmobile trails that New Hampshire has to offer. For great deals and honest service, do business with a recommended New Hampshire snowmobile dealership from the list below. When you are in the market for new or used equipment, look to NHLiving.com to locate the New Hampshire dealer that suits your shopping style best.
New Hampshire's snowmobile dealers can provide nearly every brand of equipment manufactured, including Arctic Cat, Ski-Doo, Bombardier, Polaris–to name only a few. They can also obtain many hard-to-find models of yesteryear. To promote your business in NHLiving.com – New Hampshire's Internet Magazine, please contact us.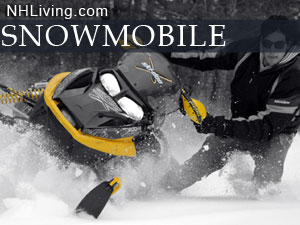 Advantage Motorsports
33 North Stark Hwy.
Weare, NH 03281-4636
Ph.: (603) 529-5767
Specializing in used Ski-Doo & Polaris models.
Alpine Adventures Snowmobiling
224 Main St.
Lincoln, NH 03251
Ph.: (603) 745-9911
Specializing in many brands of used snowmobiles.
Bickford's Sport Center
1664 Dover Rd.
Epsom, NH 03234-4418
Ph.: (603) 736-9050
Specializing in Ski-Doo & Bombardier.
Bixby's Power Equipment
Forest Rd.
Woodsville, NH 03785
Ph.: (603) 747-3762
Specializing in used snowmobiles.
Dalton Mountain Motorsports
475 Main St.
Lancaster, NH 03584
Ph.: (603) 788-4991
Specializing in Bombardier/Ski-Doo.
Garneau's Garage, Inc.
101 Rte. 302
Twin Mountain, NH 03595
Specializing in Ski-Doo.
Littleton MotorSports
515 Union St.
Littleton, NH 03561
Ph.: (603) 444-5003
Specializing in Polaris.
North Country 4×4
Lancaster, NH 03584
Ph.: (603) 788-2595
Specializing in Arctic Cat & Yamaha.
North Country Small Engines
435 Rte. 3
Lincoln, NH 03251
Ph.: (603) 745-8693
Specializing in Arctic Cat.
NH Vacation Rentals | NH Country Inns | Top NH Hotels | Resorts
Classified Ads | Golfing | Events | Attractions | Sweepstakes | Personals
Dining | Real Estate | Skiing | Pet Friendly Lodging | Conferences | Weddings
Products | NH Towns & Cities | Shopping
NH Campgrounds | Lodging Specials
CLICK - SUBSCRIBE FREE

To add your NH business, click here.