NH's "Old Man of the Mountain" Vanishes
Granite Profile Slides from White Mountain National Forest Ledge

The Old Man of the Mountain, once located in Franconia Notch, New Hampshire, was a series of five granite cliff ledges on the backside of Cannon Mountain that was first discovered in 1805 and collapsed in 2003. Today, a memorial is being built to the Old Man near the base of the mountain by a non-profit group. Old Man was first made famous by Daniel Webster, a NH stateman, and the formation went on to be memorialized in the writings of Nathaniel Hawthorne. Even after its collapse, Ol Man continues to be the NH state emblem, and can be seen on road signs, ont he NH quarter and on license plates.
To promote your business in NHLiving.com – New Hampshire's Internet Magazine, please contact us.
NH Old Man of the Mountain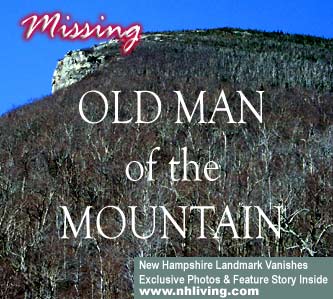 It was like a joke that had no punch line, after standing guard over New Hampshire's White Mountains for centuries, the Granite states rugged profile is gone.
The Old Man of the Mountain – a jagged, granite profile located in the White Mountain National Park has slid into history as mysteriously as he appeared. Sometime in the late evening of May 2, 2003 or early morning hours of Saturday, May 3, 2003 New Hampshire's symbol of freedom and independance vanished, the victim no-doubt of a late-spring thaw that loosened the famous profile. The profile was obscured by clouds on Thursday and Friday, so the exact time of the Old Man's departure is not known.
On Sunday morning, May 4th State of New Hampshire workers could be seen examining the ledges that once were known at "Old Man of the Mountain". Visitors began arriving to this well-know attraction shortly after sunrise. Some to pray, some to photograph, some to leave a message, and others to see for themselves the departure of what many thought would be a lifelong reminder of New Hampshire.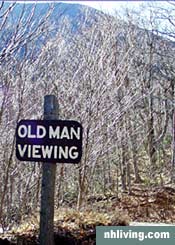 One of New Hampshire's most-photographed natural wonders, The Old Man of the Mountain has attracted millions of visitors since in 1800's. The profile was about 1,200 feet above Interstate 93, about 65 miles north of Concord, NH in the White Mountain National Park.
Daniel Webster, a 19th century New Hampshire statesman, once wrote, referring to the Old Man, "In the mountains of New Hampshire, God Almighty has hung out a sign to show that there He makes men." That symbol is gone but the beauty of this region lives on and his spirit reminds all of us that change is inenvitable and often arrives without notice.

The "Old Man of the Mountain" viewing area binoculars now display a close-up view of a sheer ledge, the "Old Stone Face" configuration of granite gone. View a larger view of the image to your right by clicking on the photograph.
NH Vacation Rentals | NH Country Inns | Top NH Hotels | Resorts
Classified Ads | Golfing | Events | Attractions | Sweepstakes | Personals
Dining | Real Estate | Skiing | Pet Friendly Lodging | Conferences | Weddings
Products | NH Towns & Cities | Shopping
NH Campgrounds | Lodging Specials
CLICK - SUBSCRIBE FREE

To add your NH business, click here.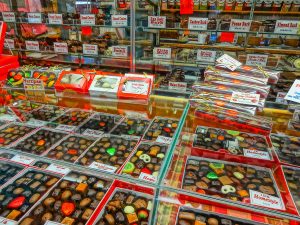 Vermont | Maine | Connecticut | Massachusetts | Rhode Island
New England Living Magazine