The Laconia Citizen

The Laconia Citizen is known as the voice of New Hampshire's Lakes Region. The paper serves Laconia, Meredith and towns around Lake Winnipesaukee. The Citizen of Laconia is a daily community newspaper founded in 1926 by Edward J. Gallagher as a publication "active in the cause of civic progress" for the City on the Lakes. While the way news is reported has changed significantly since 1926 and includes electronic as well as print news coverage, The Citizen continues to offer a balanced presentation of local and regional news while also covering "important happenings of the outside world" and offering an opportunity for people to express their views, political and philosophical, whether or not they agree with the newspaper's editorial stance on any issue. Please share your NH Newspaper comments. To feature your NH business, contact us.
The Laconia Citizen Newspaper
Save 50% or more on local newspaper home delivery
---
---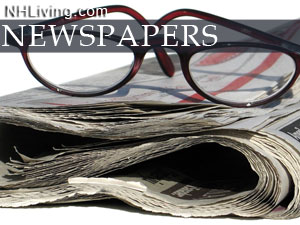 Publication Profile:
Newspaper: Laconia Citizen
Address: 171 Fair Street, Laconia, NH, 03246
County: Belknap
Phone: 603-524-3800
Fax: 603-527-3593
Email: news@citizen.com
Full Time Employees: 24
Product/Service: Daily Newspaper
Web Site: http://www.citizen.com
source: The Laconia Citizen Online (http://www.citizen.com)
NH Magazines | NH Daily Newspapers | NH Journals
NHLiving Classifed Ads | Save 50% on local newspaper home delivery
NH Vacation Rentals | NH Country Inns | Top NH Hotels | Resorts
Classified Ads | Golfing | Events | Attractions | Sweepstakes | Personals
Dining | Real Estate | Skiing | Pet Friendly Lodging | Conferences | Weddings
Products | NH Towns & Cities | Shopping
NH Campgrounds | Lodging Specials
CLICK - SUBSCRIBE FREE

To add your NH business, click here.