New Hampshire Stables

New Hampshire is a wonderful state to enjoying horseback riding or a winter horse-drawn sleigh ride. From the rural Great North Woods of the North Country to the Monadnock Region of Southwestern New Hampshire you'll find equestrian centers, stables, and horseback riding trails the entire family will enjoy. The equestrian community and pleasure horses are an important aspect of NH outdoor recreation. Both thoroughbreds and standardbreds are raised and trained in the state. NH horse farms contribute more than $50 million dollars a year to the states economy as a major consumer of locally grown hay. Please share your NH horseback riding and stable comments. To include your stable or horseback riding, contact us.
NH Stables, Sleigh Rides & Horseback Riding


Farm By the River Bed and Breakfast with Stables, 2555 West Side Road, North Conway, NH 03860
"Spectacular Mountain setting... Peaceful atmosphere... Wonderful food and friendship". Unwind in this award-winning inn on 70 scenic acres of forest & pastures along the Saco River. Nine elegantly appointed guest rooms-some with two-person Jacuzzis and/or fireplaces. Family suites, a four bedroom cottage and pet friendly accommodations available. Wake up to a cozy, fireside or patio breakfast with views. Year round horseback riding, carriage and sleigh rides, snowshoeing, x-ctry skiing, river swimming. Elopement packages available.
Visit Website
---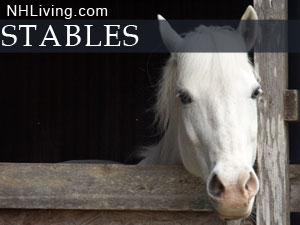 Avalon Stables
73 Ogontz Road
Lyman, NH 03585
Ph: 603-838-6235
Barnyard Gardens & Stables
283 Pingree Hill Rd
Auburn, NH 03032
Ph: 603-622-7109
BJ Stables
Peggy Driscoll
25 Village Lane
Gilford, NH
Ph: 603-528-3200
Bunty Lee Stables (or Twin Gate Farms)
195 Mammoth Rd
Londonderry, NH
Ph: 603-432-8288
Carousel Stables
30 Ryefield Road
Effingham, NH 03882
Ph: 603-539-9146
The Carriage Barn Equestrian Center
Sarah's Way
Newton, NH 03858
Ph: 603-382-2119
Chestnut Hill Arabians
167 Brown Road
Candia NH
Ph: 603-483-0377
Cornerstone Equestrian Center
Union Rd.
Belmont, NH 03220
528-8551
Dartmouth Riding Center
Laramie Road
Etna, NH 03750
Ph: 603-643-1808
Missing Something? Add your NH stable, comment, review or update
NH Vacation Rentals | NH Country Inns | Top NH Hotels | Resorts
Classified Ads | Golfing | Events | Attractions | Sweepstakes | Personals
Dining | Real Estate | Skiing | Pet Friendly Lodging | Conferences | Weddings
Products | NH Towns & Cities | Shopping
NH Campgrounds | Lodging Specials
CLICK - SUBSCRIBE FREE

To add your NH business, click here.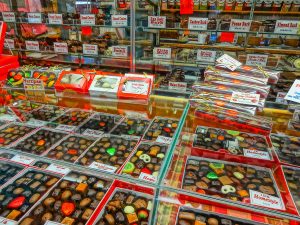 Vermont | Maine | Connecticut | Massachusetts | Rhode Island
New England Living Magazine