New Hampshire Family Reunions
Planning a Family Reunion in New Hampshire

New Hampshire is an outstanding vacation destination for families with children of all ages. New Hampshire Inns, Hotels, and Resorts offer some of the finest children's programs in the country.
Families want vacations that are fun for everyone. After all, if the kids aren't having a good time, neither will mom and dad. Maine is very family friendly and here in beautiful New Hampshire you will find something for every member of your family. New Hampshire is also a great location for a Family Reunion. To feature your favorite business in NHLiving.com – New Hampshire's Internet Magazine, please contact us.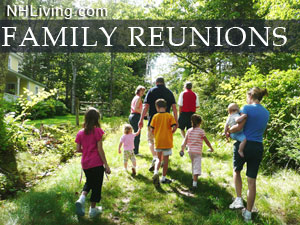 A family reunion is a great way to reunite with family members that you have lost contact with, or that you haven't seen in years. Planning a reunion can be easy if you approach it as if you were going on a family vacation. Here are some questions to ask yourself before you get started:
How many people are you inviting?
This is one of the most important factors that will affect where your reunion is held, and what type of event you will have. When counting your family members, be sure to include spouses and to also find out if there are any new children in the family.
How are your family members going to get to your reunion?
Whether you or each one of your family members are going to pay the travel expenses, the best way to save a little extra cash is to plan ahead. You can research airfares and make lodging reservations online, as well as print out maps of the event area to make sure that no one will get lost.
Where are you going to hold the event?
Choose a location that will accommodate a large number of vehicles, where you won't have cars lined up next to the street. Consider "taking over" an entire New Hampshire Inn or Bed and Breakfast, A New Hampshire Hotel or Resort is another option. A large backyard may work for some families, while others may choose to rent out a restaurant, a dance hall, a campsite, or an event center.
How long is your reunion going to last?
If your reunion is going to be an all-day event, you will need to plan several meals for your family. An outdoor barbeque for lunch may work in several cases, and dinner at a local restaurant may be a nice formal event to include later on that night. Make sure that you have plenty of refreshments for young children.
Where will everyone stay after the reunion is over, and what type of transportation will they need to get around town?
If you are not including hotel reservations or transportation for your family members, send them each a list of local car rental agencies and hotels a couple of months before the reunion. This gives them some time to make their own reservations. You may also want to include a brochure of the area and local attractions, just in case some of your family members want to stay a little longer.
What activities would you like to include?
An awards event is always a great way to break the ice and to re-associate family members with each other. Give out prizes for the youngest and oldest family member, the couple who has the most children, who traveled the greatest distance to come to the reunion, etc. Create a crafts or game table where the children can keep themselves occupied when the adults are talking with each other. An easy way to provide plenty of activities for your family is to hold it at a theme park or historical site.
After the reunion is over, send each family member off with an item that they can remember the reunion with, and be able to keep in touch with other family members. Create a family directory that includes names, phone numbers, e-mails, birthdays and anniversaries. Another great idea is to make a family recipe book for each family member and include whom each recipe came from.
Great North Woods NH Resorts
Berlin, Colebrook, Errol, Dixville, Lancaster, Pittsburg
White Mountains NH Resorts
North Conway, Lincoln, Woodstock, Littleton, Franconia, Gorham, Jackson, Sugar Hill, Whitefield, Waterville Valley,
Lakes Region NH Resorts
Laconia, Rochester, Plymouth, Ossipee, Meredith, Ashland, Wolfeboro, Bristol, Winnipesaukee
Dartmouth Lake Sunapee NH Resorts
Lebanon, HaNover, Claremont, Newport, Tilton, Lyme, Plainfield, Newport
Monadnock NH Resorts
Keene, Peterborough, Fitzwilliam, Westmoreland, Chesterfield
Merrimack Valley NH Resorts
Manchester, Concord, Nashua, Salem, Derry, New London, Merrimack, Loudon
Seacoast NH Resorts
Portsmouth, Dover, Durham, Hampton, Exeter, Rye, Hampton Beach
NH Vacation Rentals | NH Country Inns | Top NH Hotels | Resorts
Classified Ads | Golfing | Top Events | Attractions | Sweepstakes | Personals
Dining | Real Estate | Skiing | Pet Friendly Lodging | Conferences | Weddings
Products | NH Towns & Cities | Shopping
NH Campgrounds | Lodging Specials
Search NH Living