New Hampshire Christmas Tree Farms
NH Christmas Tree Growers by Region
Christmas trees are grown throughout New Hampshire. No matter where you are there is one nearby from which to find the perfect christmas tree for the holidays. If you are not from the area many tree farms will ship a New Hampshire Grown Christmas tree to you. Just select a link below to begin the search for the perfect Christmas tree!
Locate a New Hampshire Tree Farm by region, click on the map or follow the text links below for more information about New Hampshire Tree Farms and Christmas Tree Wholesalers. NHLiving.com thanks you for supporting New Hampshire Christmas Tree Farmers and the Society for the Protection of New Hampshire Forests.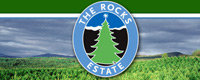 The Rocks Estate, 4 Christmas Tree Ln, Bethlehem, NH 03574 Ph: 603-444-6228.
Nestled in the heart of the White Mountains, The Rocks Estate is a 1,400-acre protected reserve and home to the Forest Society's sustainable Christmas tree farm. Trees are carefully hand-shaped and wreaths meticulously decorated to raise money for land conservation in New Hampshire. Visitors to The Rocks can ramble scenic trails seeking wildlife such as moose, coyote, bear, kestrels, and bobolink, enjoy a picnic in our terraced gardens with butterflies and hummingbirds, attend one of our educational programs, or just visit and enjoy the incredible views of the Presidential Range.
www.therocks.org
---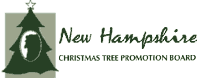 New Hampshire Christmas Tree Promotion Board, C/O The Rocks Estate, 4 Christmas Tree Ln, Bethlehem NH 03574 Ph: 603-444-6228.

Christmas trees are grown all over New Hampshire, from the rugged Great North Woods above the White Mountains to the scenic Lakes Region, in the pastoral Monadnock area and on to the farms of the Merrimack Valley and the Seacoast. These NH farms grow several different species of Christmas trees, although Balsam fir and Fraser fir are the most numerous.
www.nhchristmastrees.com
---
Great North Woods NH Tree Farms
Berlin, Colebrook, Errol, No. Stratford, Lancaster, Pittsburg


White Mountains NH Tree Farms
North Conway, Lincoln, Littleton, Franconia, Gorham


The Lakes Region NH Tree Farms
Laconia, Rochester, Plymouth, Ossipee, Meredith, Ashland, Bristol

Dartmouth / Lake Sunapee Region Tree Farms
Lebanon, Hanover, Claremont, Newport

Monadnock Region NH Tree Farms
Keene, Peterborough, Fitzwilliam, Chesterfield

Merrimack Valley Region NH Tree Farms
Manchester, Concord, Nashua, Salem, Derry

Seacoast Region NH Tree Farms
Portsmouth, Dover, Durham, Hampton, Exeter

Dining | Real Estate | Skiing | Vacation Rentals | Inns | Hotels | Resorts
Classified Ads | Golfing | Events | Attractions | Fishing | Personals
Pet Friendly Lodging | Meeting Rooms | Weddings
Products | NH Towns & Cities | Shopping
NH Living Sweepstakes
Register to win
Visit us on Facebook - tell your friends, NHLiving - is giving away great prizes. Enter to win in the Winner's Choice Sweepstakes.